Last month I shared with you our latest, on-going fundraiser sponsored by Scentsy. In case you missed it, our friend and Independent Distributor Jessica, so graciously established a party which will donate 25% of it's sales to Brayden Alexander Global Foundation for Hydranencephaly.
If you've never heard of Scentsy, you're missing out on an amazing product... which only continues to offer more wonderful options for sharing their amazing scents.
New in September:
~Solid Perfume, currently offering 5 fine fragrances like "Love Story" and "My Wish"
~New warmer designs and fresh, new scents; in this month's featured products
~the month's featured warmer and scent of the month: PUMPKIN MARSHMALLOW *yum!
~many new close-out specials
...and my personal favorite:
Sasha
!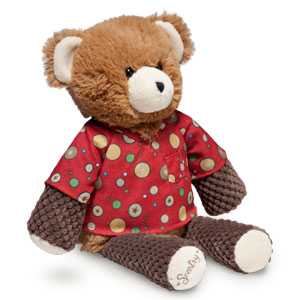 For $30, you get this ADORABLE bear and a Scent Pak to keep inside and bring your Scent Buddy to life with a favorite comforting scent. The best part is that 100% of the net proceeds from this bear is donated to Ronald McDonald House Charities, with 25% still being donated to our foundation from our friend Jessica. Helping two invaluable charities with one purchase, and an adorable... perfect for gift-giving... purchase at that! :)
In case you're not familiar with the amazing (and I have extensive personal experience) work that Ronald McDonald House Charities does, here is more info on their cause:
Mission
The mission of Ronald McDonald House Charities (RMHC) is to create, find and support programs that directly improve the health and well being of children. Guiding us in our mission are our core values:

Focusing on the critical needs of children.

Celebrating the diversity of the programs we offer and the staff, volunteers and donors who make them possible.

Staying true to our heritage of 36 years of responsible stewardship.

Operating with accountability and transparency.
Vision

We believe that when you change a child's life, you change a family's, which can change a community, and ultimately the world.
We strive to be part of that change and part of the solution in improving the lives of children and their families by providing programs that strengthen families during their most difficult or challenging times. We extend our reach and impact by leveraging our 36 years of experience and strong relationships with local communities and people in the field to continually establish Chapters across the globe.
We continually work to improve and expand our core programs, while also developing new services to address the unique needs of the communities we serve.

We don't do it alone. We rely on our Chapters to identify needs and carry out our mission on the ground. We rely on our strong relationships with the medical community to provide access to health care. We rely on strategic alliances with organizations that have the knowledge and infrastructure to extend our reach. We rely on you – our donors, volunteers, staff and friends.

Putting It into Action

RMHC makes an immediate, positive impact on children's lives through our global network of Chapters in 52 countries and regions and through our three core programs:
We award grants to other nonprofit organizations that align with our mission to positively impact the health and well being of children.

We are also committed to education. Local Chapters award thousands of scholarships each year through RMHC U.S. Scholarships to students entering college across the United States.

Relationship with Medical Community

To help improve the health and well being of children around the world, we rely on strong partnerships with the medical community.

These relationships have been nurtured and have grown over our 36-year history. And because of these relationships, we can bridge access to health care for people through:

One or more of our three core programs in 73 percent of the best children's hospitals in the world.

Local clinic service providers who partner with Ronald McDonald Care Mobiles in their area.

Grants to other non-profit organizations that also serve children.

Medical professionals contribute to RMHC in a variety of different ways:

They are actively engaged as members of the RMHC Global and local boards of directors.

They provide land for Ronald McDonald Houses, spaces within hospitals for Family Rooms.

They assist with operating costs and donations of in-kind services.

They volunteer their time and services on Ronald McDonald Care Mobiles and with other programs.

This critical support enables us to expand our program capacity and help change children's lives around the world.

Because of our relationships with the medical community, we can help eliminate many of the barriers that prevent families of ill and injured children from getting the care their children need.